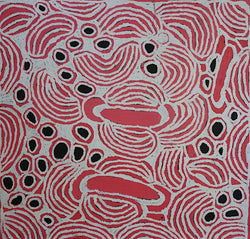 Ningura Napurrula
Wirrulunga, size 1200 x 1200 mm.
Dreaming: This the story of an important rockhole site called Wirrulunga which is located in an rocky outcrop where she was born at Kiwirrkurra.  The site is associated with birth and with rituals significant to the women of her Country.   They often twisted hair into ceremonial skirts while at the site. 
Artist's Language/Country: Ngaatjatjarra/Kintore, NT. Life c. 1938 to 2013, born Watulka, Kiwirrkurra, WA
Painted:  2007/Code:  PPFA2021-52
Medium: Acrylic on Belgian linen. 
Working photographs and Certificate of Authenticity.