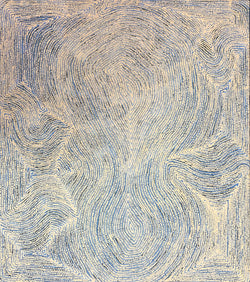 Title: Tingari, size 1000 x 890 mm.
Dreaming:  This paintings depicts the sacred rites of Tingari and locations associated with it.  Aboriginal mythology embodies a vast network of Aboriginal Dreaming (tjukurpa) song lines that traverse the Western Desert region of Central Australia. 
Language/Country: Pintupi/Kiwikurra WA. Born: 1958, Tjuurlnga in the Angus Hills, east of Kiwirrkurra WA; 
Painted: 2017
Medium: Acrylic on Belgian linen.
Certificate of Authenticity.