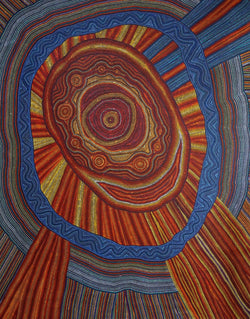 Barbara Weir
Title: Sunset, size 2000 x 1600 mm.
Dreaming:  In this powerful work Barbara depicts the strong and beautiful desert colours over her country at sunset.   The underlayers show features of the lands on which she was born.
Artist's Language/Country: Anmatyerre & Alyawarre/Atnwengerrp NT.  Born 1945, Bundy River Station, NT. Read artists bio.
Painted 2018/Code:  PPFA21-40 
Medium: Acrylic on pre-primed linen. 
Certificate of Authenticity with holding photo.  Signed on back.