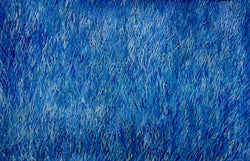 Barbara Weir
Title: Grass Seed Dreaming, size 1500 x 2000 mm.
Dreaming:  Barbara depicts grasses that used to cover her land before the introduction of cattle. When she was growing up, the grass which is very herb like, provided small seeds  important for damper (bread) making.  They were dried and ground using rocks, then mixed with animal fat and cooked over bush camp fires.
Artist's Language/Country: Anmatyerre & Alyawarre/Atnwengerrp NT.  Born 1945, Bundy River Station, NT. Read artists bio.
Medium: Acrylic on pre-primed linen. 
Certificate of Authenticity with holding photo.  Signed on back.