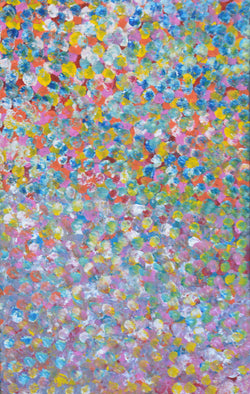 Polly Ngale
Title: Bush Plum, Size 570x920
Dreaming:  The painting depicts the importance of the wild bush plum as a staple source of food for aboriginal people. Aboriginal people pay homage to the plants, flowers and fruits of the bush plum in their ceremonies, art and body paint designs.  
Artist's Language/Country: Anmatyerre/Alparra NT.  Born 1940, Utopia, NT. 
Medium: Acrylic on Belgian linen.
Painted 2019/Code:  PPFA2021-658
Photograph of Artist with completed work and Certificate of Authenticity, Signed on Back