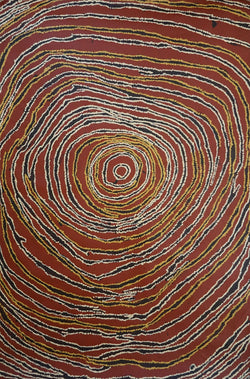 Walangkura Napanangka
Title: Women's Dreaming, size 1800 x 1200 mm.
Dreaming:  Walangkura's paintings depict the rockholes and significant features around the salt lake near her homelands of Karrkurutinjinya, near Lake MacDonald in the Western Desert.
Artist's Language/Country: Pintupi/Kintore, NT. Life c. 1946 to 2040, born Tjitjururrnga, WA
Painted:  2009/Code:  PPFA2021-20
Medium: Acrylic on Belgian linen. 
Signed on back. Working photographs and Certificate of Authenticity.