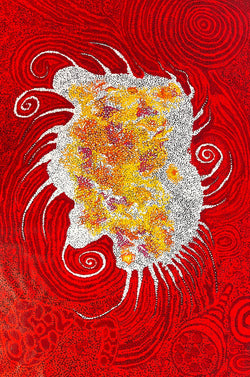 Samantha Daniels Napaltjarri
Title: Womens Dreaming, Size 1230x1820
This painting depicts Women's Dreaming a site at the secret cave site of Mitukatjirri which is south east of Kintore Community, NT. This is Samantha's great grandfathers' country and permission to paint it was given to Samantha by her grandmother, Linda Syddick.
Painted: 2023/Code:  PPFA2021-709
Certificate of Authenticity with holding photo. 
Contemporary aboriginal painting.
Medium: Acrylic on linen.