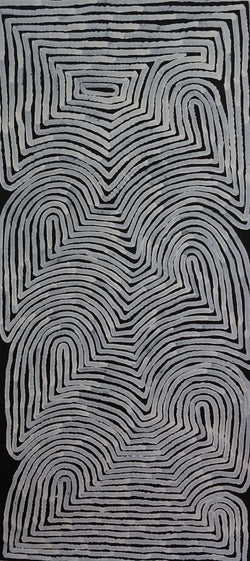 Title: Water Dreamig, Size 570x1230
This painting depicts Water Dreaming at a site east of Lake MacKay called Maparrinya. This Water Dreaming travelled from Maparrinya to south of Fitzroy crossing. 
This site is also associated with the Tingari Cycle which refers to sites and practices associated with the secret song cycle sacred to initiated men. The Tingari are Dreamtime Beings who travelled across the landscape performing ceremonies to create and shape the country associated with Dreaming sites. The Tingari ancestors gathered at these sites throughout the Western Desert for Maliera (initiation) ceremonies.
Life:            c 1943 - 2023
Language/Country:        Kintore (Walungurru)/Pintupi/Luritja, 
Painted:  2009/Code:  PPFA2021-2
Medium: Acrylic on linen. 
Working photographs and Certificate of Authenticity.