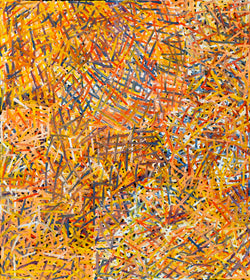 Betty Mbityana
Title: My Mothers Story, size 1060 x 950 mm.
Dreaming: This paintings depicts the symbol of Awelye, which covers all aspect of aboriginal women's cultural, spiritual, family and social life.  Awelye is knowledge that is sacred and passed on through stories, song and ceremonies.  It is often referred to today as  women's business.  
Artist's Language/Country: Anmatyerre & Alyawarre/Antwengerrp NT. Born c. 1950, Utopia, NT. Read artists bio.
Medium: Acrylic on linen.
Code: BM-AWL0821PP-2