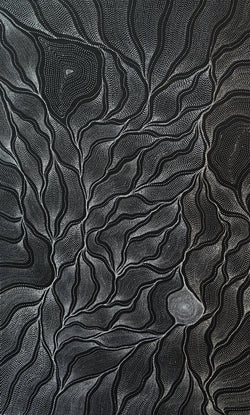 Anna Petyarre
Title: My Country , Size 900x1500
Dreaming:   Anna's My Country works depict some of the many features of the lands of her country.   The rockholes and soakages that provide life sustaining water, the rocky outcrops that provide shelter and shade, the seasonal places that provide specific foods and the sacred ceremonial sites important to the women. 
Language/Country: Anmatyerre /Utopia, NT. Born: c. 1965, Mulga Bore, Utopia, NT. Read artists bio.
Painted: 2020/Code: 
PPFA2021-368
Certificate of Authenticity with holding photo. Signed on back.
Contemporary aboriginal painting.
Medium: Acrylic on Belgian linen.