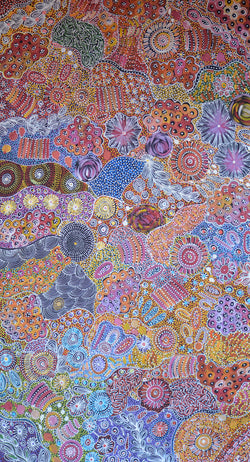 Janet Golder Kngwarreye
Title: My Country, Size 1085x2000
Dreaming:  In this painting the artist is depicting the nature and topography of her ancestral lands combined with those of the cultural practices of the women of her country.  
Artist's Language/Country: Anmatyerre/Utopia NT.  Born 1973, Mulga Bore, Utopia, NT. 
Painted:  2020/Code:  PPFA2021-651
Medium: Acrylic on Canvas.
 Certificate of Authenticity with holding photo. Signed on back.