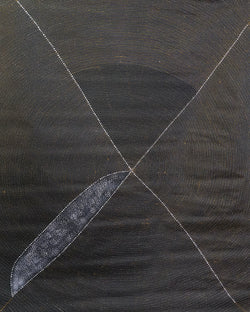 Title: Mountain Devil Lizard, Size 1200x1500
This painting depicts the ancestral tracks of the Arnkerrth. The mountain Devil Lizard is one of the most significant Dreaming and is attached to the Arnkerrth, Kathleens homeland.
Artist's Language/Country: Anmatyerre/Antnangkere NT.  Life:  c. 1940 – November, 2018.
Painted:  2007/Code: PPFA2021-397
Medium: Acrylic on Belgian linen. 
Photograph of Artist with completed work and Certificate of Authenticity.