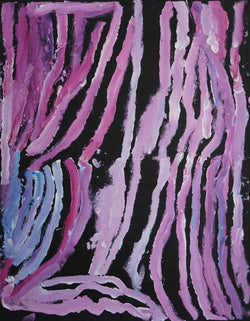 Title: Hairstring, size 1200 x 900 mm.
Dreaming:  Makinti often painted designs associated with travels of Kungka Kutjarra (Two Women). The linear patterns in her paintings represent the hair-string skirts worn by the women during ceremonies when they celebrated these stories through song and dance. The skirts are woven from human hair using a simple spindle made of two sticks.
Artist's Language/Country: Pintupi/Kintore. Life: c. 1922 to 2011, born Karrkurritinytja,  
Painted:  2006/Code: PPFA 2021-9
Medium: Acrylic on Belgian linen. 
Working photographs and Certificate of Authenticity.