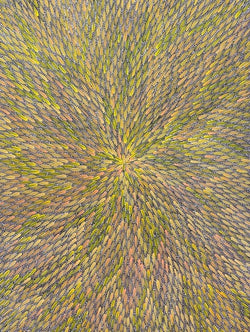 Bernadine Johnson
Title: Bush Medicine Leaves, size 930 x 710 mm.
Dreaming: The leaves of the Kurrajong tree are significant to women of Utopia and their medicinal uses are wide. The trees are believed to have existed for longer than aboriginal culture and their leaves have been collected, dried and then boiled to make poultices and healing herbal drinks for many thousands of years.  
Artist's Language/Country: Arrente/Ltyentye Apurte NT. Born c. 1974. 
Medium: Acrylic on canvas.