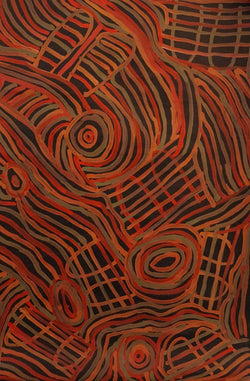 Title: Awelye Size, 640x930
Dreaming ~ "Awelye-Atnwengerrp", "Bush Melon" and "Bush Melon Seed". These convey her love and respect for the land and the food it provides to the people. These bold paintings depict traditional body designs and bush melons which are part of Pwerles intimate and intuitive knowledge of the life around her. Awelye-Atnwengerrp" is depicted by a series of lines painted in different widths and colours. This pattern represents the lines painted on the top half of the women's bodies during ceremonies in their country of Atnwengerrp.Artist's Country:  Utopia, NT. Read artists bio.
D.O.B: 1920 - 2006
Painted:  2004/Code: PPFA2021-305
Medium: Acrylic on Belgian Canvas.
Certificate of Authenticity.