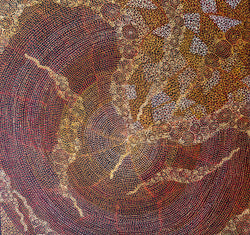 Sarrita King
Title: Ancestors - Dry Season, size 900 x 900 mm.
Dreaming:  This painting represents elements of the many thousands of years of Sarrita's ancestors.  Ancient markings made on the land become testaments to those who have walked before.  Depicted are the sand hills, flora and paths made by humans and animals and under it all, the waterways which have sustained life for countless generations.
Language/Country: Gurindji /Katherine, NT. Born: 1988, Adelaide, SA. Read artists bio.
Contemporary aboriginal painting.
Medium: Acrylic on linen.
Stretched over timber frame, ready to hang.