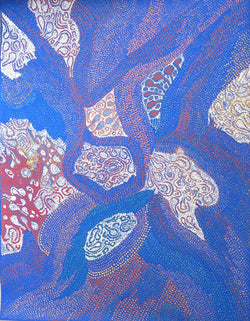 Jorna Newberry
Title: My Country, size 1200 x 900 mm.
Dreaming:  In this painting the artist is depicting her images of the nature and topography of her ancestral lands combined with those of the cultural practices of the women of her country. She worked closely alongside her legendary uncle, Tommy Watson and follows his instruction to favour abstraction to ensure secrecy of important cultural matters, rather than taking the more figurative approach of the traditional Papunya Tula artists.  
Artist's Language/Country: Pitjantjatjara/Warakurna, Irrunytju        
Born:  C.1959, Angus Downs NT.
Read artists bio.
Medium: Acrylic on linen.