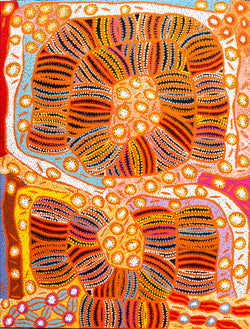 Esther Bruno
Title: Marrapinti (Grandmothers Country), size 1180 x 890 mm.
Dreaming:  Esther paints the land of her grandmothers country, Naata Nungurrayi around Marripinti to the west of Pollock Hills in WA. This country was also depicted by women of her clan Doreen Reid Nakamarra and her grandmother Naata who is a legendary early artist of the desert art movement.
Artist's Language/Country: Lurritja & Pintupi/Kintorre NT.  Born 1971, Alice Springs, NT.  
Medium: Acrylic on linen.