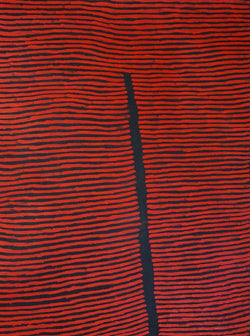 Fire Dreaming, size 1200 x 900 mm.
Dreaming: Fire Dreaming depicts land development through the practice of controlled burns for the regrowth and regeneration of important desert vegetation.  The open line running down the centre of these works depicts the high point of the land, usually a sand dune from which the men observe and guide the fires.
Life:
            c 1943 - 2023
Language/Country:
        Kintore (Walungurru)/Pintupi/Luritja, 
Painted:  2013/Code:  PPFA2021-26
Medium: Acrylic on Belgian linen. 
Working photographs and Certificate of Authenticity.