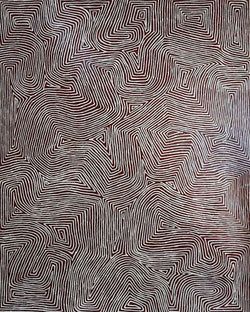 Title: Tingari Dreaming, size 1840 x 1500 mm.
Dreaming:  This painting depicts a vast network of Aboriginal Dreaming song lines that traverse the Western Desert region of Australia.  In Pintupi stories, a group of Tingari men (ancestral elders) - who were usually followed by groups of women and children - travelled over the Western Desert area performing rituals and creating the country. Deep knowledge of Tingari business is still very secretive and restricted to senior men in the community. 
Artist's Language/Country:  Pintupi/Kintore, NT; Born: C1943, Walawala, Kiwirrikurra NT. Read artists bio.
Painted: 2009/Code:  PPFA-58
Medium: Acrylic on Belgian linen.
Certificate of Authenticity with holding picture.