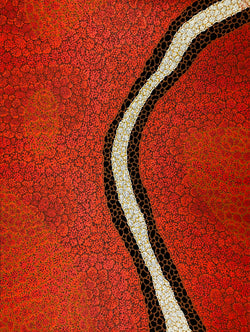 Kurun Warun
Title: Eels Biting Stone, size 1200 x 900 mm.
Dreaming:  This works depicts the eels in his country. The eels move upstream using the stones to 'step' their way against the current, up the creek back to their breeding grounds. They grip the stones with their mouths and and move from one stone to the next, against the current. Kurun refers to this as eels biting stones.
Painted:  2023/Code: PPFA2021-965
Medium: Acrylic on linen.
Signed by Artist.  Certificate of Authenticity.